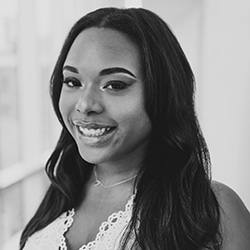 AMIAH SHEPPARD
Research Assistant
Originally from Los Angeles, Amiah Sheppard is a perpetual learner who loves to dive into any challenge. Through cultivating a unique academic and practical education incorporating sociology, gender and organization, leadership (specifically women and women of color's leadership), entrepreneurship and building strategic relationships, joining the #BRAVAfamily was a natural fit.
Amiah is a recent graduate of Barnard College of Columbia University in the City of New York. During her time there, she was an Athena Scholar in the Barnard College Athena Center for Leadership Studies, Barnard College Senior Fund Co-Chair, Barnard Global Symposium Student Fellow to Mumbai, and Columbia Calling Center Student Caller among many other activities, voluntary and paid. She also raised over $75,000 for Columbia University and Barnard College during her involvement in the Columbia Calling Center and Barnard Senior Fund, all while bartending all around NYC as a member of the Barnard Bartending Agency.
Amiah is currently earning her MA in Management in Wake Forest University's School of Business in Winston-Salem, North Carolina.