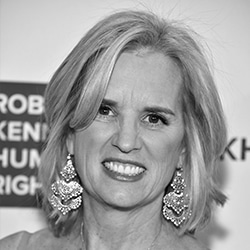 KERRY KENNEDY
ADVISOR
Kerry Kennedy is the President of Robert F. Kennedy Human Rights, where she has served on the board since 1981.
Ms. Kennedy is the best-selling author of Being Catholic Now, Prominent Americans talk about Change in the Church and the Quest for Meaning ( Random House 2008) as well as Speak Truth to Power, Human Rights Defenders who are Changing our World (Random House 2000).
Kennedy's life has been devoted to the vindication of equal justice, to the promotion and protection of basic rights, and to the preservation of the rule of law. She has worked on diverse human rights issues such as child labor, disappearances, indigenous land rights, judicial independence, freed expression, LGBTI rights, access to education and to health care, ethnic violence, impunity, and the environment. She has concentrated specifically on women's rights, exposing injustices and educating audiences about women's issues, particularly honor killings, sexual slavery, domestic violence, workplace discrimination, sexual assault, abuse of prisoners, and more. She has led hundreds of human rights delegations.
At the RFKennedy Human Rights, Ms. Kennedy established four programs. RFK Partners for Human Rights bolsters the efficacy of human rights defenders through sustained, strategic partnerships, litigation and training, extending their reach to legislators, diplomats, international institutions, and corporations. RFK Speak Truth to Power educates students K-Law School about human rights issues and provides the tools for creating change in their communities. RFK Legacy promotes Robert Kennedy's values and vision of a more just and peaceful world.
RFK Compass was launched in 2010 to bring together leading fiduciaries from defined benefit pension funds, foundations and endowments, sovereign wealth funds, notable family offices and leading consultants with asset managers to address the intersection of sustainability issues – human rights, the environment, and corporate governance and optimizing long term risk-adjusted returns.
Ms. Kennedy sits on the board of directors of Long Island Iced Tea, a publicly traded company.
Ms. Kennedy's commentaries have appeared in The Boston Globe, The Chicago Sun-Times, The Los Angeles Times, The New York Times, the Yale Journal of International Law and many other publications.
Nominated by President Bush and confirmed by the U.S. Senate, Ms. Kennedy serves on the board of directors of the United States Institute of Peace, as well as Human Rights First, Sustainable development Goals Center for Africa, and SDGUSA, . She serves on the Editorial Board of Advisors of the Buffalo Human Rights Law Review and on numerous advisory committees.
Ms. Kennedy received the highest civilian honor from President Lech Walesa of Poland for aiding the Solidarity movement and has received many honorary degrees and other awards.
Ms. Kennedy is a graduate of Brown University and Boston College Law School, and is licensed to practice law in the District of Columbia and Massachusetts.

<< Back to Team Page