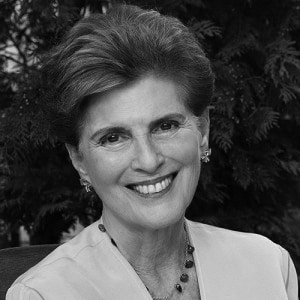 MARIE WILSON
advisor
Marie Wilson is a feminist leader and social entrepreneur who has created and led women's organizations for the past forty years. She is Founder and President Emerita of both The White House Project and the Ms. Foundation for Women; creator of Take Our Daughters to Work Day; a pioneer in micro-enterprise for low-income women, and author of Closing the Leadership Gap: Why Women Can and Must Help Run the World (Viking 2004).
Her career began in the late 1970's in Des Moines, where she raised a family of five. While living in Iowa, and by fostering strong partnerships there between Drake University and the business community, she built one of the largest and most innovative divisions of women's programming in the U.S. She also spent two years as an executive in the Iowa banking sector and was one of the first woman to win an at-large seat on the Des Moines City Council.
In 1984, she left Iowa to run the New York-based Ms Foundation for Women. She and her colleagues at Ms. created partnerships with large foundations like Ford, MacArthur and others to explore best practices in micro-enterprise through collaborative funding. Her best known work during almost two decades at Ms. was Take Our Daughters to Work Day, which changed the lives of millions of girls across the country and became almost a national holiday in the workplace. For her innovative work throughout her philanthropic career, the Council on Foundations awarded her one of the two top honors in philanthropy in 2002, the Scrivner Award for Creative Grantmaking.
In 1998, while still at the Ms. Foundation, Wilson founded the White House Project to build a truly representative democracy where women lead alongside men in all sectors, up to and including the presidency. The White House Project's creative training programs and use of research and popular culture has helped to spawn a new women's political movement in the U.S. Its political boot camps have trained more than 11,000 women in the past decade.
Wilson has been profiled extensively in the national media, including in The New York Times Public Lives column and in O Magazine. She has appeared on the Today Show, Good Morning America, CNN, and BBC, and she has spoken on National Public Radio. Wilson has received four honorary doctorates including, most recently, a Doctor of Divinity from the Episcopal Seminary in Boston. She lives in New York City.

<< Back to Team Page