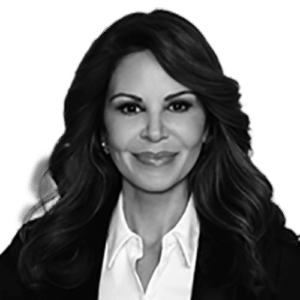 NELY GALÁN
ADVISOR
Latina media dynamo and women's empowerment advocate Nely Galán, dubbed the "Tropical Tycoon" by The New York Times Magazine, is one of the entertainment industry's savviest firebrand talents. An immigrant and self-made media mogul, Galán was the first Latina President of Entertainment for a U.S. television network (Telemundo). She is an Emmy Award-winning producer of over 600 episodes of television in Spanish and English, including the FOX hit reality series "The Swan".
After becoming self-made on her own terms, Galán has made it her mission to teach women—regardless of age or background—how they too can become entrepreneurs. Her New York Times best-selling book, SELF MADE: Becoming Empowered, Self-Reliant, and Rich in Every Way (¡ADELANTE! Cómo Ser Emprendedora y Autosuficiente Para Alcanzar Una Vida Rica y Realizada) was published by Spiegel & Grau/Random House in 2016. Inspired by the new revolution in women's entrepreneurship led by multicultural women, Galán wrote the book as a manifesto to ignite the SELF MADE movement, uniting all women on a quest for an economic future they control.
Galán is also the founder of the nonprofit The Adelante Movement, which seeks to train and empower Latinas to become entrepreneurs.
More About Galán
Galán is the former President of Entertainment of the powerhouse Telemundo television network, making her the first Latina president at a major network. She has owned and operated her own media company since 1994.
Galán Entertainment has helped launch 10 groundbreaking television channels in Latin America, and has also produced 700 episodes of programming that cross all genres, from reality series to sitcoms, telenovelas to talk shows, in both English and Spanish.
In addition, Galán is the founder and president of Santa Clara LLC, a real estate development and investment company that has commercial and residential real estate holdings in multiple states.
In 2008, Galán appeared on the first season of the NBC hit The Celebrity Apprentice with Donald Trump, joining an all-star cast including Gene Simmons, Nadia Comaneci, Marilu Henner, and the infamous Omarosa. Galán's appearance on the show, where she raised $250,000 for her charity Count Me In for women entrepreneurship, cemented her reputation as one of the nation's top female leaders.
Galán is a sought-after speaker on the subject of women entrepreneurs, and the role of diversity in the US economy. She has spoken at Coca-Cola, American Express, General Electric, the US Chamber of Commerce, the Gates Foundation, the Clinton Foundation and the United Nations.
Galán is also frequently cited for her influential work as a board member for the Hispanic Scholarship Fund, number one resource for Hispanic and Latino scholarship programs, and The Coca-Cola Company Advisory Council. She is an Emeritus member of The Smithsonian Board and was featured in HBO's The Latino List documentary and national museum show as one of the most influential voices in the Latino community.
Galán is based in Venice, California, where she lives with her family.

<< Back to Team Page