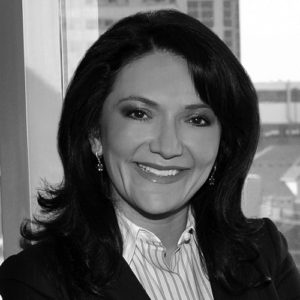 NINA VACA
ADVISOR
Nina Vaca is Chairman and Chief Executive Officer of Pinnacle, an executive search firm named the second fastest growing women-owned company in America by the Women Presidents' Organization in 2016. Her dynamic leadership over the past 19 years has propelled the company from a niche IT services firm to the workforce solutions powerhouse it is today, with a suite of business lines that address the range of human capital challenges companies face today.
Because of her many successes with Pinnacle Group and the respect she has earned within the business community, Vaca has been elected to serve as a director of three publicly traded companies, and has won numerous awards both for the company and as an individual. She has been named one of the most influential Latinos in the United States for the past seven years, and has also been called one of the country's 100 most intriguing entrepreneurs by Goldman Sachs.
In addition to her varied business pursuits, Vaca is a committed civic leader and philanthropist. She is a passionate advocate for women and entrepreneurs, especially within the Hispanic and minority communities. In 2014, the Obama Administration appointed Vaca as a Presidential Ambassador for Global Entrepreneurship. Vaca is also Chairman Emeritus of the United States Hispanic Chamber of Commerce, and serves as Chairman of the USHCC Foundation. For the superb work she has done in the community as well as in business, she has been awarded three honorary doctorates and is the youngest graduate in her alma mater's history to be honored as a distinguished alumna.