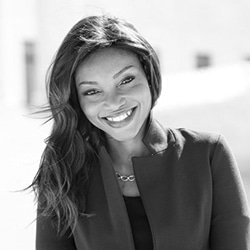 TOLU OLUBUNMI
advisor
Tolu Olubunmi is an entrepreneur and global advocate for migrants, refugees, and displaced people. An innovative thinker and determined change-maker, she has established and led numerous NGOs and campaigns focused on immigrant integration, employment, access to technology, and education.
Tolu is the founder and CEO of Lions Write, a social venture that builds and manages initiatives committed to giving voice and value to the voiceless and strengthening collaborations between corporations, governments and civil society organizations. She co-founded Immigrant Heritage Month and has helped draft and implement U.S. immigration policies.
Tolu serves on the World Economic Forum's Global Future Council on Migration and co-chairs Mobile Minds – a high-skilled migration project advancing cross-border remote working as a 21st century alternative to physical migration. She also sits on the board of directors of USAIM for IOM (the UN Migration Agency).
In 2015, the World Economic Forum named her One of 15 Women Changing the World and an Outstanding Woman Entrepreneur. Tolu is often called upon to share her expertise and inspiring personal story with a variety of entities, including the United Nations, Gates Foundation, World Bank, TIME, and the White House.
Tolu holds a Chemistry-Engineering degree from Washington and Lee University.

<< Back to Team Page