Shelley Bird is a "builder" with global marketing, strategy, and business transformation experience across multiple industry sectors. Having lived and worked in seven countries, she has helped organizations navigate disruptive change and culture transitions, launch new ventures, and retool existing models. She is the founder of the Bindu Project, a social enterprise supporting charitable startups, and former co-chair of X Squared Angels, an angel group that invests in women-led early-stage companies. Ms. Bird is the former Executive Vice President, Office of the CEO, at Cardinal Health. For most of her 10-year tenure with the company, she was responsible for global branding, corporate marketing, digital media, public relations, community relations and government affairs. She was a key member of the team that spun off the company's medical device businesses as a separate publicly traded company under the name CareFusion, creating a new industry leader. Ms. Bird also served as an advisor to the chairman and CEO, and as chairwoman of the Cardinal Health Foundation's board of trustees. Additionally, by special appointment of the chairman and CEO, she was a consultant and strategist to the Columbus Partnership and its CEO-members on education reform and business community engagement. During that time, she launched FutureReady Columbus, a nonprofit working collaboratively in the community to ensure that all children in the city of Columbus, regardless of where they live or go to school, acquire the skills necessary to succeed in the classroom and in life. And she was the founding advocate of Widen the Circle, a regional effort to increase the representation of women in leadership and on corporate boards, and a member of the World Economic Forum's Global Agenda Council on Gender Parity. She earned a Doctorate in Communication at the University of South Australia, but still doesn't speak with an Aussie accent.
Can you imagine disadvantaged women never having hope of living successful lives? We can, and became impassioned to form EnVision Proven Success, a non-profit organization that provides a forum to share their struggles, successes, and to strengthen the resources that help women realize their importance.
McQuetta Williams is the CEO/ Founder of the non-profit organization and publication of EnVision Proven Success. Williams, mother of three and grandmother of eight. After raising her three children, Williams became vision-impaired, overnight due to an unknown illness. Williams has a passion for linking people to resources. Williams graduate of Ohio Dominican University with a Bachelor of Science. For the past 10 years she has been Referral Specialist at Hands On Central Ohio. Williams was a WrightChoice intern at Ohio Legal Rights Service and at the Center of Vocational Alternatives. Williams was a recipient, advocate, volunteer, member of Dress for Success Columbus (DFSC), first Woman of Power of DFSC in 2010, Professional Women's Group member, and published the first, 2014, edition of EnVision Proven Success (EPS) for the recipients of DFSC. Williams, an Ambassador at First Church of God, Salvation Army volunteer, advocate for Human Trafficking /advocate of VOICEcorps. In 2017, Williams was one of Sunny95 20 Outstanding Women, and EPS was recognized in Ohio Business Profile by the Secretary of State. Williams 'vision in life is to be able to help somebody so her living will not be in vain, she is known for saying We don't look like what we've been through!
Williams' greatest goal is to empower women that have overcome challenges so they can give back to the community by sharing their journey of success and becoming economically self-sufficient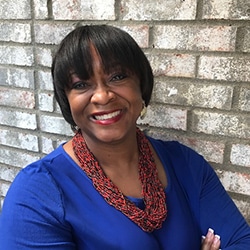 Tiffany Marr
Founder of Wemblr LLC
Tiffany Marr is an enthusiastic feminist and social entrepreneur. She is the Founder of Wemblr LLC, a social ecosystem where women share financial advice with one another by way of real life stories, experiences, successes and failures or by sparking a conversation topic where others can respond in real time. Despite women's achievements in so many industries, statistics show that, on average, women earn $0.80 on the $1.00 that a man earns. Yet, while earning 20% less, women manage and disburse 80% of the household budget and finances, or more. Wemblr exists so that women can exchange the knowledge they have acquired through day-to-day and month-to-month living while expanding their financial advisement network beyond their small group of family and friends. Our goal is to help eliminate the taboo associated with money conversations while being a tool that empowers every woman's financial journey, no matter where she sits on the spectrum. Tiffany holds a Bachelor of Science degree in Management with an International Business collateral and a Master of Business Administration (M.B.A) in Marketing and Finance, both from The Haslam College of Business at The University of Tennessee, Knoxville.
Noni is the inspiring founder of The Diva Movement, a personal development and social networking organization for women and girls. The rapid growth of this organization, is a result of her gift to nurture the strengths and passions of women. She believes that when women connect powerful things happen. With a passion for empowering and inspiring women, Noni Banks founded The DIVA Movement with the mission of empowering, inspiring and motivating women to thrive. Founded in 2012, The Diva Movement was created to let women know that their hopes, dreams, desires, and purpose matters. " I want to let women know that they have a choice. They do not have to sacrifice their hopes and dreams. I want to empower women to tap into their greatness. There are lives that need to be touched, the world needs what's on the inside of you" Prior to The Diva Movement, Noni thrived in various nonprofit leadership roles. She is a nationally recognized and accomplished community organizer and training and professional development professional. Noni was the co-founder and coordinator of one of Columbus' largest back to school event which provided free school supplies to over 15,000 children. Her passion is serving at-risk women and children. Noni has a Bachelor's Degree in Public Relations from Otterbein College. Noni is a wife and mother of four boys, two bonus sons and two bonus daughters.
Chelsea Varnum, M.Ed., is a community educator with an expertise in sexual health, sexualities, and community development. Currently she works as CEO of Curious, a body-safe and inclusive sexual wellness pop-up shop in Columbus, OH. She has over 7 years of experience in education with adolescents and adults, including developing inclusive programming and community-centered curricula. She specializes in creating sex education and leadership development workshops for LGBQ and Trans/Gender Non-Conforming communities. Chelsea received her Masters of Education in Human Sexuality from Widener University in 2012.
Claire Schuler is a rising senior at Upper Arlington High School and is a graduate of the 2017 Barnard Entrepreneurs-in-Training program. She excels at the cello and is in the process of developing an online submission-based magazine which will give LGBTQ+ youth a platform to share their stories and life events.